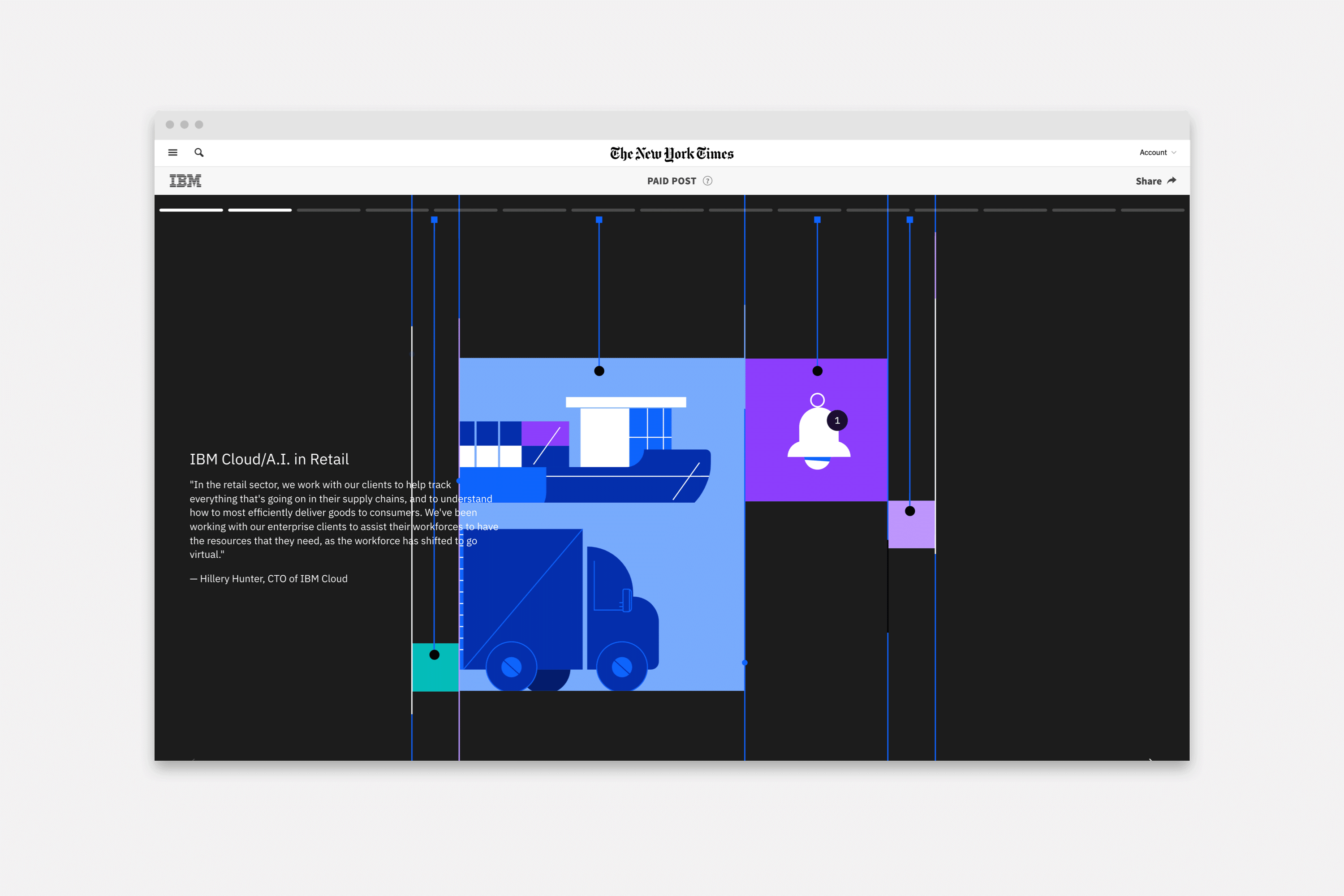 ---
IBM
Hybrid Cloud & A.I.
Hybrid. Open. Resilient. IBM's integrated cloud and AI platform helps people and communities solve problems and uncover new opportunities. IBM approached The New York Times' T Brand Studio to create a program that distills the idea of intelligent workflows and explore the ways they transforms process and operations in a wide range of business cases.

The program includes custom reporting, animated explainers, and an interactive digital experience that explores all the ways IBM cloud impacts the world. The goal of the partnership is to create awareness and compel consideration for the entire IBM Cloud ecosystem (including Hybrid, Multicloud, Public Cloud) with an overarching, year-long campaign that moves prospects from thought leadership and brand-level advertising to specific use case-driven conversations that drive demand generation for IBM capabilities and products.

Illustration plays an important role in our storytelling toolkit. We use still and moving artwork to bring additional layers of humanity and emotion to articles, evoking unspoken nuance and subtext through visual metaphors and concepts. In most cases, these visuals do not duplicate what is said in the text, but instead build on ideas to amplify their meaning. Like our writing, the work is intelligent, compelling and sophisticated.






---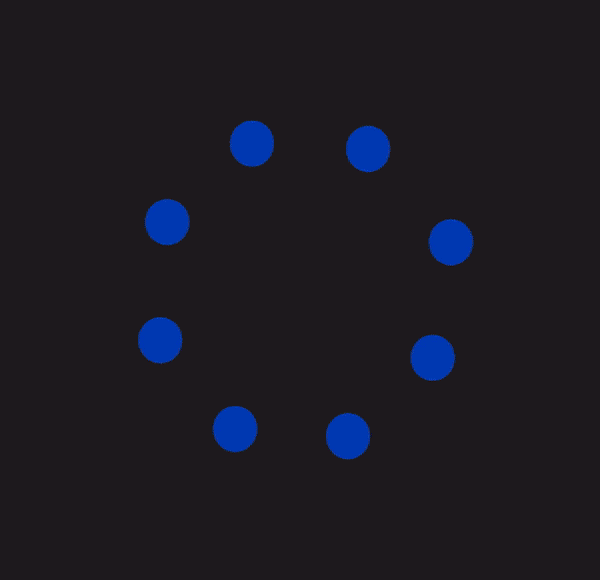 ---
Art Direction
The art direction strategy is inspired by IBM's iconography, this playful, geometric approach will feature emotive characters, bold colors and smooth curves to illustrate how A.I. enhances organizations by harmonizing workflows and empowering humans. Leaning into grids, 2D or isometric, we use patterns and repetition to show how systems process information or data is moves from beginning to end.

The campaign will highlight the emotive, human impact of innovations fueled by IBM's open cloud and connect these business breakthroughs to the most prominent changes, trends and challenges of the world.

IBM has developed a robust design language around each of their products. For Cloud and AI, circles are a common theme. In some cases groups of tiny circles represent data and in other cases a single orb is shown interacting with it's surroundings. This playful use of shapes allows us to tell a story by creating relationships and metaphors to accompany the text.





---
---
Design Direction

This IBM-inspired design approach will incorporate bold san serif and a dark-colored background to complement the accompanying illustration style. We will utilize IBM's bold brand colors and a few value variations to help give the illustrations more depth.

This fresh and minimalist design will include IBM's mono typeface, which will pair nicely with this geometric illustration style. The white background and thinner fonts will give this post a refreshing outlook. We will also utilize some of IBM's bold brand colors.







---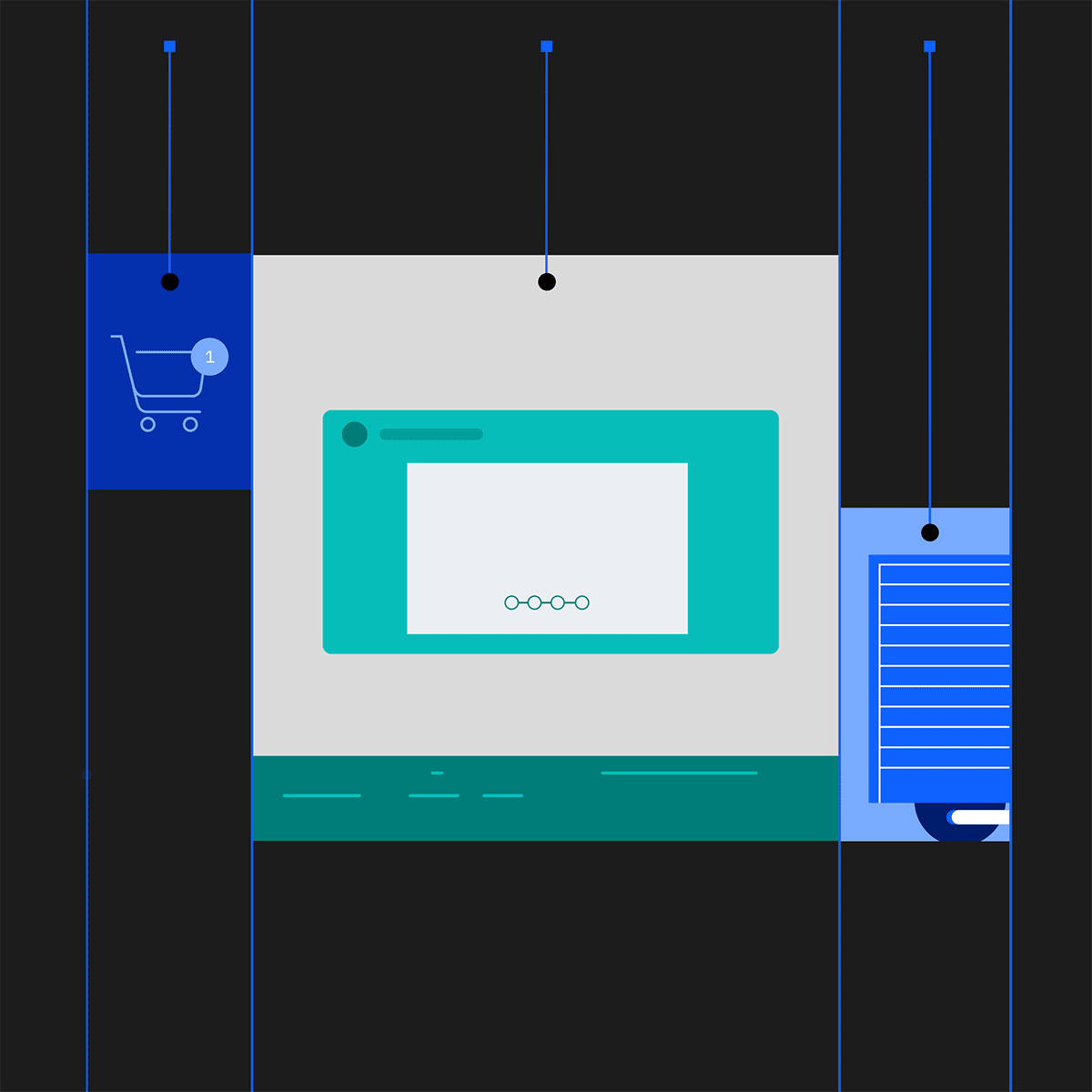 ---
Color

We will work in a blue and teal palettes, with complimentary, and other accents. We'll use color strategically throughout the piece to convey movement from beginning to end, and also within each frame to highlight and focus the reader on the content.











Credits
---
Client: IBM Cloud Project: IBM Cloud Project Management: Janice Vargas, Nicole DeWitt Producer: Lubomir Madolev Art Direction: Nicole Rincon, Nicholas Garber Design Lead: Nicholas Garber Illustration & Animation: Nuria Boj Negrete