---
Visit Florida
Postcards From Florida



We find ourselves at home – but this moment is not forever. We will travel again. We will visit Florida, when the time is right. Until then, we can give readers the necessary escape. Visit Florida partnered with the New York Times T Brand studio to send our readers on memorable trips without leaving their homes. The program centered around that idea that vacations have always been something that provide comfort and escape. Research shows that taking a vacation won't necessarily make you happier: anticipating it will.
The concept of the program focused on the many ways we can master and savor the art of anticipation. Our audience, New York Times readers, are seeking moments of escape. The goal of the program is to send our readers on memorable trips without leaving their homes. To do this, we commissioned four talented storytellers with ties to Florida to pen short stories inspired by a simple prompt: "What Makes You Happy?"
Our team wanted to show readers the many sides of the Sunshine State by sending them on a series of memorable trips — trips they could take without actually leaving their homes. With that, Postcards from Florida was born. We enlisted talented storytellers with unique ties to Florida, and asked each of them to pen short stories to remind readers of the incredible memories they can eventually make — when the time is right.
Each Floridian's words came to life in a digital article with visually striking mixed-media collages that combine photos and vibrant illustrations. Their original stories also lived as bold poster-style print ads. Google Lens and QR code technology pulled up the digital experience for readers with a simple point and click.
---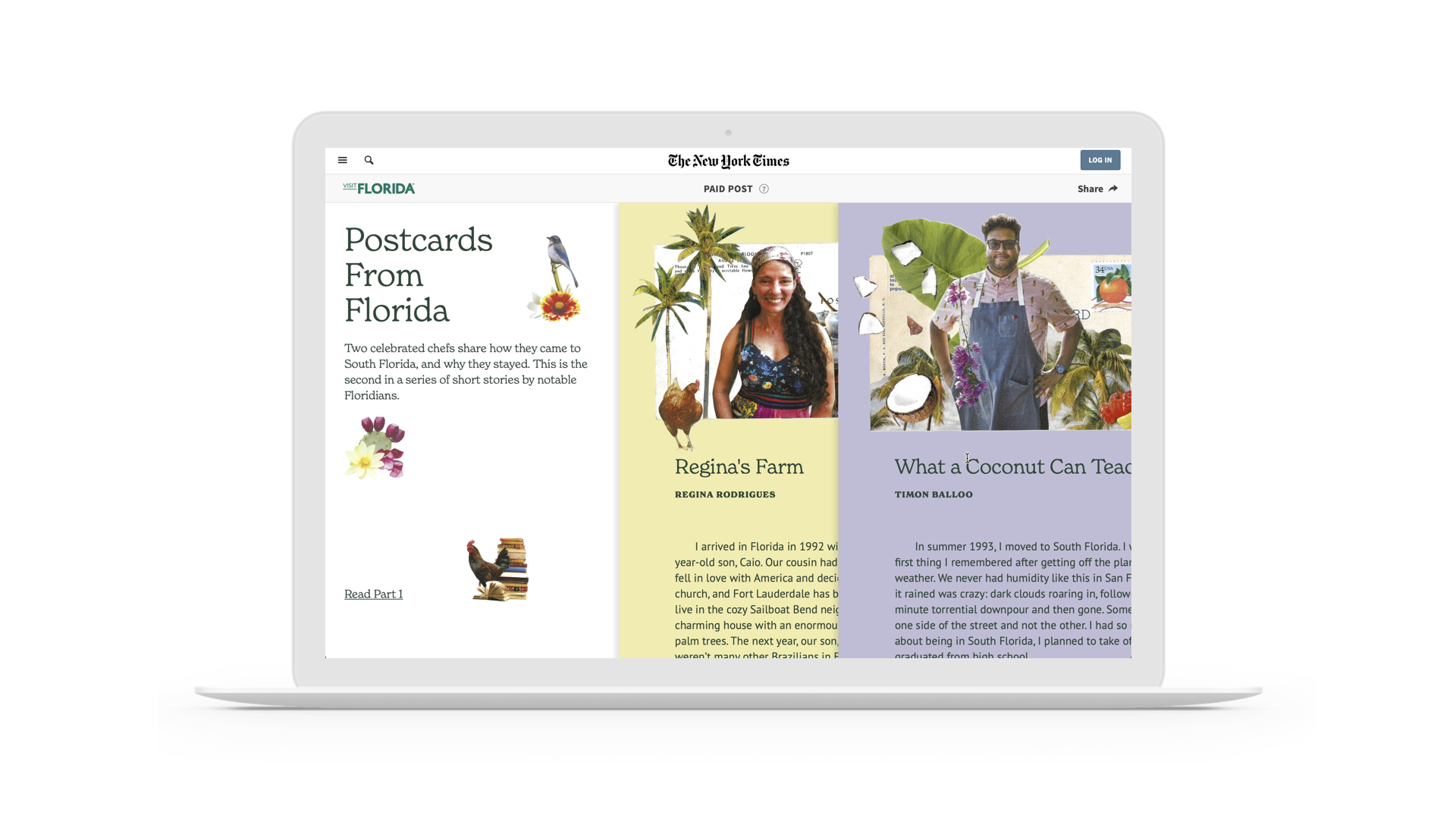 ---
Art Direction
The visual direction is compressed of original collage artwork, interactive design, and graphic design. The goal is to evoke an incredible journey of the mind. We draw upon the visual metaphor of memory to create a feeling of warm, subjectivity, and sentimentality.

Collage is a medium of choice as the mix of vintage photography, and found objects give a sense of familiarity, nostalgia and sentimentality. Depicting small, intimate moments stuck in time that are set within larger landscapes that are widely familiar. Collage give a sense of personal meaning and transport our audience from their homes, straight into a serene Florida way of life.

We worked with analog collage artist Ariel Kohn who is known for layering found imagery sourced from vintage and current magazines and books, mostly collected from thrift shops and yard sales. Hand-cut and combined, here illustration create unique narratives through juxtaposition.




---
Design Direction
We will utilize an elegant serif typeface reminiscent of old time stationery with a modern twist. While keeping the typography simple and refined, we will provide ample space for the hero collage illustrations. Inspired by Visit Florida's brand guidelines, we will use brand colors to highlight key elements on the page.




---
Interactive Design
The reader experience involves a series of interactive touch points that invite the reader to explore. Colorful story cards are stacked, each card housing one of our subjects' stories. On click, each panel expands to reveal the full article view. The narrative is introduced with an illustration and a headline. Spot illustrations are interspersed throughout the editorial. To return to the initial view, reader can collapse the page with the right-facing arrow or click on the background itself.




Credits
---
Client: Visit Florida (Florida Tourism Board) Project: Postcards from Florida Strategist: Sydney Levin Editor: Claudine Ko Art Direction: Fernando Capeto, Nicholas Garber, Josh Terry Senior Designer: Nicholas Garber Designer: Josh Terry Creative Technologist: Vince Humeau